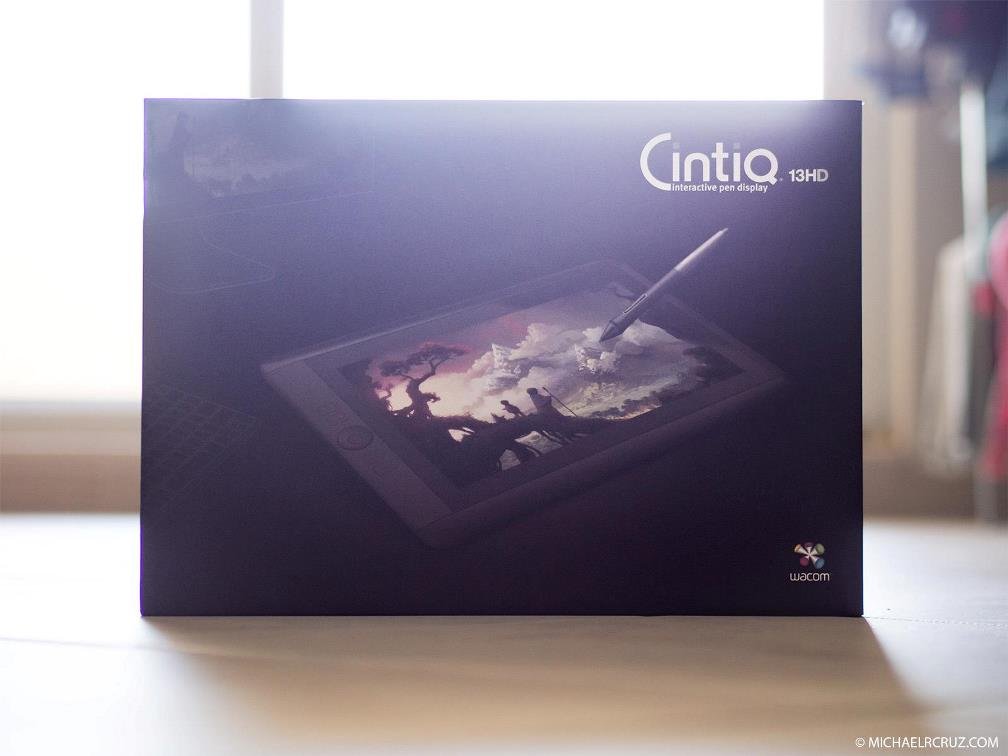 I have been dreaming of a Cintiq tablet for a long time.  My main problem is the cost; I cannot justify the cost of a 22 or 24 inches model although they are probably really good, they are out of my budget.  I am not a retoucher or graphic artist by profession… so, splurging thousands of dollars doesn't sound like a good investment for someone like me.   Although, I do like using Photoshop and I retouch pretty much all my photos, but I can always do it with a regular Intuos tablet (I am currently using an Intuos 5 Medium size).
After using an Intuos tablet for more than three years, I am now incapable of retouching using a mouse.  There is a Cintiq 12wx model which has been there for years… Why did I not get that one? Well as per user reviews, it is expensive, very bulky, heats up, lots of fat wires and with a 1280 x 768 resolution… Yeah, I think that explains it.
So here goes the Cintiq 13HD which according to its specifications will solve all the downfalls of the previous model… I won't be giving all the technical details, you can Google that one out; but here is my honest user experience, after using it for a few hours yesterday.  Just so we are clear, this is not a review unit.  I purchased this from my own wallet.  This is from one of the first units that came to UAE.
It is slimmer than I expected and quite light too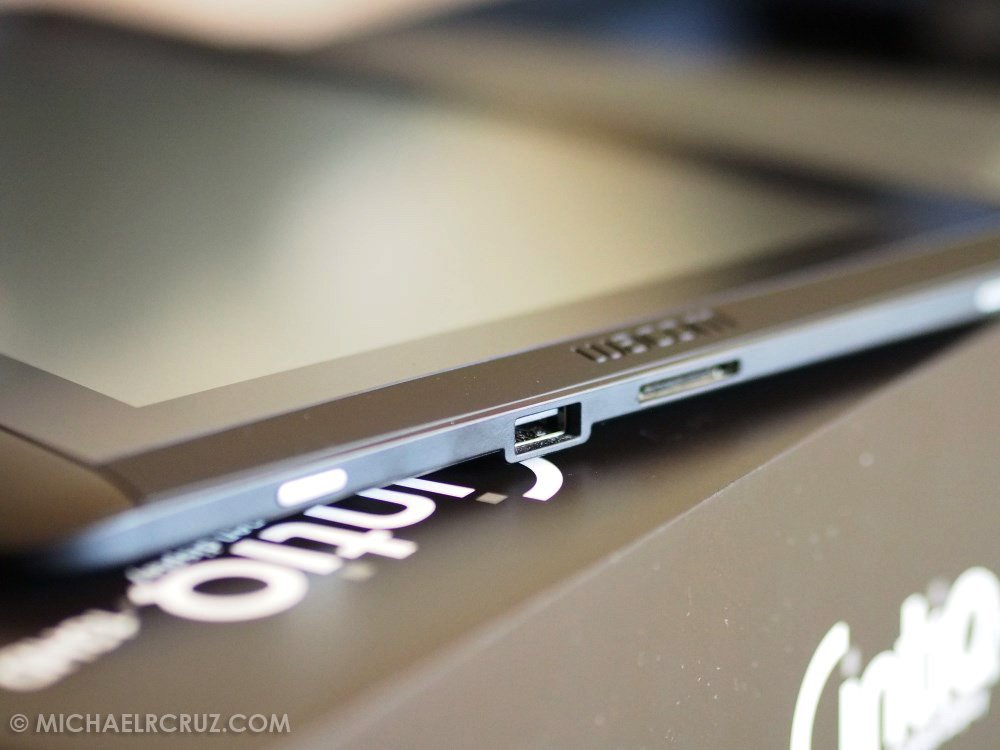 As I mentioned, it is almost similarly sized to the Intuos 5 Medium size tablet, even the finish is the same.  It has that matte / rubbery feeling; I like it, it looks sleek and very well made.  It does attract some finger prints but if you're a "smudge/ OC" freak, you can use a soft cotton hand glove while using it… you will probably look weird though 🙂  For me, I use it bare hands and I just wipe it down with the cleaning cloth that came with it and it goes back to its shiny out-of-the-box look.
The Full HD (1920 x 1080) 13″ screen is really good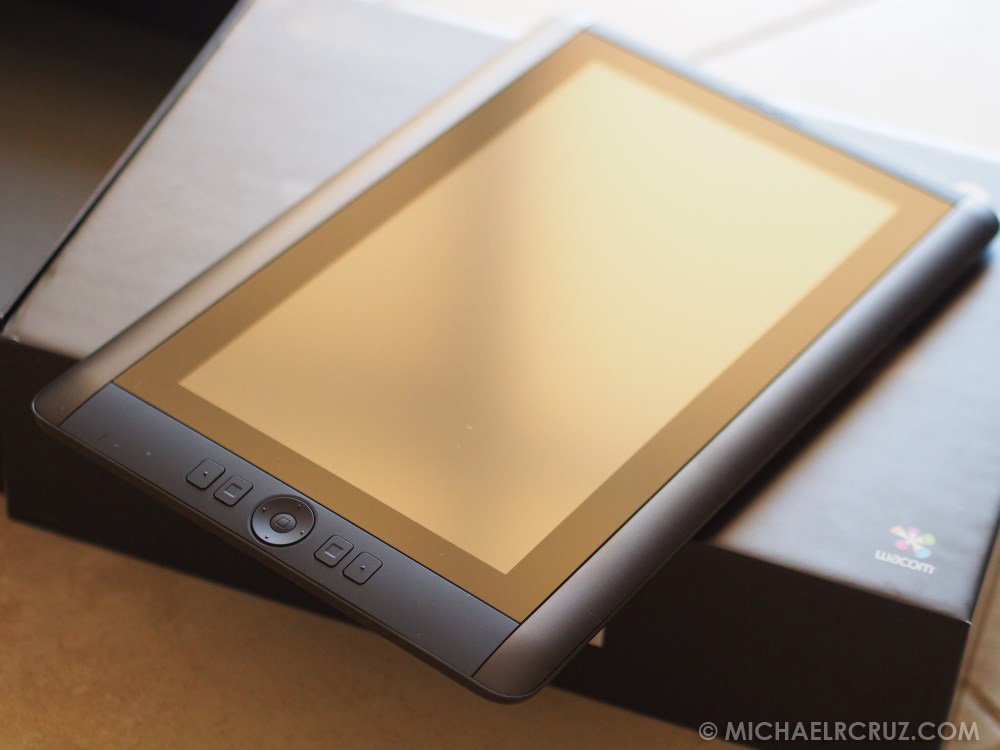 My 15″ MacBook pro's resolution is 1440 x 900 and it's not bad, not Retina good, but OK.  Now, squeezing the 1920 x 1080p into a 13 inches display will give you around 170 ppi which is quite good, I personally can't see any jaggies or pixels on the fonts on the display.  Looking at my retina iPad, the display of the Cintiq 13HD is not far off.  And you won't be using this as close to your eyes like the iPad , so it will pretty much give you a Retina-ish experience (at least that's how I see it).  Viewing angles and brightness are quite good too.  I don't find any problem with the colors as well.
New stylus pen with a really well made case! (the pen holder is still there)

My two  previous Intuos tablets (4 & 5) didn't come with any pen casing, so when I travel, I need to find an empty pocket on my bag to store the pen so I don't lose it.  I guess this is a nice addition and it looks pretty good too.  It is well-made.  I can't say right now if it's better than the stylus on the Intuos series, but what I can say is that the Intuos 5 stylus pen doesn't work on the Cintiq 13HD boooo!! 🙁
Button layout is good and it has a firm tactile feel to it so you wont accidentally press them

That's my problem with the Intuos 5, I always press those buttons by accident.  I'm glad I won't have that same problem here.  That being said, I wish they would have put more buttons, like the ones in the Intuos to get more custom keys.  I didn't like the lack of LED labels on the Intuos 5 (Medium), the 4 has it and it's quite handy at night.  Anyway, those are just small complaints, nothing that you can't get used to.
User experience
Let's get down to the important stuff.  I used it for around 3-4 hours, doing quick edits and customizing the keys and all that; I find no adjustments necessary if you are coming from Intuos tablet. In fact, I find it much easier to use and the pressure sensitivity is much better compared to my Intuos 5.   I came from a painting/drawing background and it takes me back to the good old-fashioned-paper-sketching and coloring.  It feels freakin' good! It comes with a stand, which is nothing fancy but it serves its purpose (giving you a tilt).   You can easily work on it on your lap while sitting on a sofa or on the bed; just like sketching on a nice sturdy sketch pad.
Here are some of my other observations:
I didn't notice any heating problem; I used it for three hours straight and I don't remember it heating up.
You can easily tilt the tablet giving you more natural strokes.  If you work on paper before, you will feel at home.  This is quite a big factor for me.  Takes me back to the paper/sketch pad experience.
The cables are long enough so you can work on it on your lap while sitting on the sofa or lying on bed.
You will need a mini-display to HDMI adapter if you are a Mac user.
I find the cable connecting to the Cintiq to be a weak point, so extra care is needed.
I can use rulers! to get straight lines (probably not a biggie to others but I find that great!).
Full HD on 13″ can get really small when clicking menus (i.e. Photoshop), I personally have no issues with it, but you can use lower resolution if it's too small for you.
NO JITTERS! Again, very paper-like experience.
NO LAG!
ACCURATE; you can always calibrate it to fit your position (sitting/lying/etc.).
There's almost no gap between the pen tip and your image… again very sketch pad like experience.
Dodging and burning experience is so much better! I say, 5x better than the Intuos experience.
On Part 2, it is a follow-up review after using the tablet for a longer period of time.
Until then…
/Mike