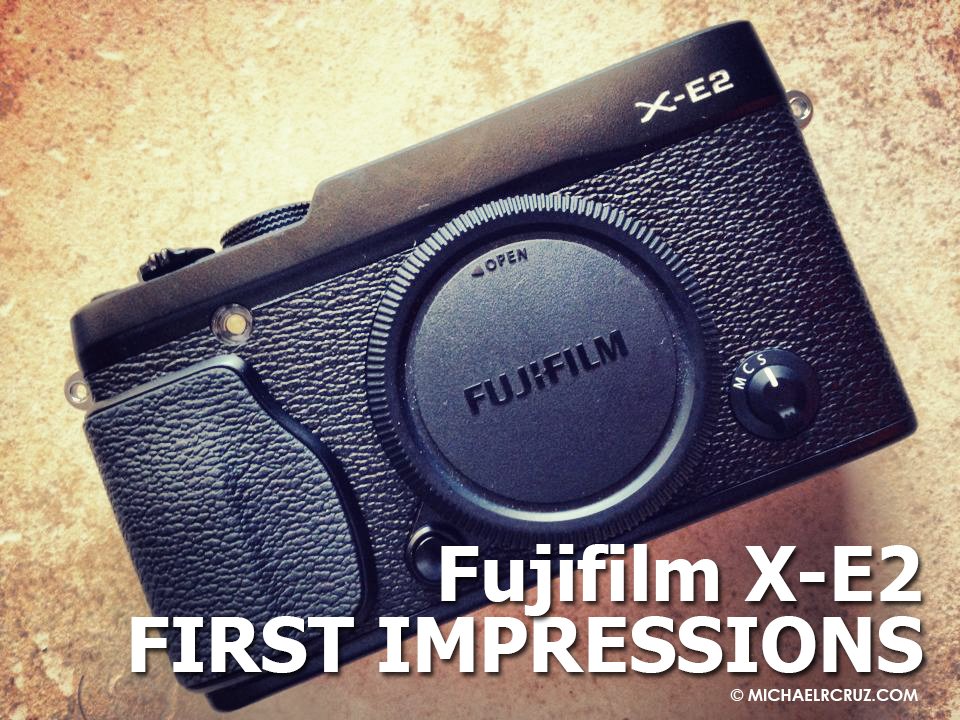 I've had the X-E2 for about two days now (as of this writing) – Fujifilm Middle East gave me a pre-production unit and asked me if I want to try it out and see how it performs;  Well, being a photographer, there's nothing better than trying out new gear 🙂
Hardware Changes
Like a kid getting a new toy, first things first… Fiddling time.  Being a gadget geek, I checked all the hardware changes side by side with the X-E1.  Overall, there are no major changes in terms of the size, structure and weight of the X-E2, so don't expect anything new in this regard.  However there are a few new button changes that I noticed right away.
I can see  that the Q button has been moved and the X-E2 supports a slightly bigger LCD which is now 3" compared to 2.8", that might be too small to notice but the improvement is not with the size it is actually on the LCD resolution which is now 1.04M dot LCD from a measly 420K dot screen from the X-E2.  Looking at it side by side, there is a big noticeable difference, especially when you are looking at high-detailed shots.  That is a welcomed change.
Another hardware change is the new 180x option on the shutter speed dial, not really something big for me but it's good to have it there especially if you are working with strobes or flash.
At first, I didn't notice any changes on the EVF, mainly because they have the same resolution; but then when I was shooting with it last night, in a poorly lit environment, you can see that refresh rate has been massively improved, there's almost no lag!
Another hardware change I noticed right away is the added +/-3 stops on the exposure compensation dial.  This might not be useful to some, but for a bracketing junkie like me, that works to my advantage.  Since Fuji doesn't support more than 1 EV on AE bracketing, I have to use some other technique to get two or three stops bracketing.  I will be discussing on that AE bracketing solution some other time.  But having a +/-3 in that dial is a convenient thing to have.
Taking it out for a Test Drive!
***Note:  Please excuse the photos, since these are merely snap shots.

I was thinking of how I can give it a quick test drive and since I was planning to go to the Dubai Motor Show, I thought it would be a great idea to test the camera out at the same time!  It's like hitting two birds with one stone, so off I went!
Fuji X-E2 + Fujinon 23mm f1.4 | f1.4 | 1/950 | ISO 800
Another new hardware in my possession is the Fujinon 23mm F1.4 lens. Now this is a superb lens! I cannot say anything bad about it. Since I started using it, I cannot get enough of it.  It's been a very high-quality lens, which applies to both its build quality and image quality – but I will try to cover that in a separate review.  So, in other words, I used the 23mm f1.4 lens with the X-E2 and I was not disappointed with that decision.

Fuji X-E2 + Fujinon 23mm f1.4 | f1.4 | 1/600 | ISO 800
Just like any exhibit, it was a fairly lit room with lots of spot lights everywhere with nasty green lights all over the place. It's funny, only photographers can see this. Well, now that I can see it, I cannot "un-see" it anymore, so as a photographer, you deal with it and find your way how to go around it.

Fuji X-E2 + Fujinon 23mm f1.4 | f1.4 | 1/680 | ISO 800
Going back to the X-E2, because I have a pre-production unit, there are some options that show ### on some of the menus, so I didn't bother using it, i.e. the panorama feature.  As I clicked, I already had in the back of my head that I am not going to be able to process these pictures in Adobe Camera Raw since the X-E2 is not yet supported – as of this time – being a new camera, so I will be dealing with JPEGs the entire time.
Fuji X-E2 + Fujinon 23mm f1.4  | f1.4 | 1/150 | ISO 640
The Auto Focus (AF) is quick and accurate, gone are the days when the AF was an issue with X-Series cameras.  Again, don't expect Micro 4/3 fast, but this is  faster than any APS-C mirrorless I have tested; comparing it with NEX series and Canon EOS-M, the AF of X-E2 is faster.  I've had the X-Pro1 for quite some time now and I can tell right away that the focusing on this is a lot faster, this is probably because it uses the new X-Trans CMOS II sensor which features hybrid focusing (Contrast and Phase Detection) just like the X100s. It came very handy especially in a mixed-lighting situation and it doesn't hunt in poor lighting conditions, too.
Fuji X-E2 + Fujinon 23mm f1.4 | f1.4 | 1/750 | ISO 800
So far, I have no complaints with the performance.  The writing speed (on the SD card) is also much quicker compared to the X-Pro1.  Performance-wise, this is a better camera than the X-Pro1, but there are things that will still make me use the X-Pro1 as my main camera, mainly ergonomics. It just fits better into my hands, but apart from that, I can see the X-E2 being a main camera for a lot of people.  It is quicker in all aspects and suits you better, if you are a street photographer.  I also think, it makes  a perfect travel camera, with its WIFI functions, which is handy when you are on the road.  You can send photos directly to your phone or to you laptop wirelessly.  I haven't tested this feature yet but I have tested it on the X-M1 which has the same feature and it's quite handy to have.
Fuji X-E2 + Fujinon 23mm f1.4 | f1.4 | 1/1800 | ISO 800

I will try to be more detailed in my full review of the X-E2.  For now, I can tell that despite the change on the exterior, the X-E2 is a new camera from the inside and you can tell the improvements once you start using it.  I will continue to test the X-E2 and will probably compare it with the X-E1 and the X-Pro1 in part 2 of this review.
** Notes:
I used Aperture Priority mode, Velvia, Auto DR and Auto ISO and the rest are camera's default;  Please remember that I am using a pre-production unit so it could be that the EXIF might not be that accurate.
I have not been paid or compensated by any means by Fuji on doing this review, this is my personal experience while using the camera.  They asked me if I wanted to test it and I agreed, that is pretty much it.