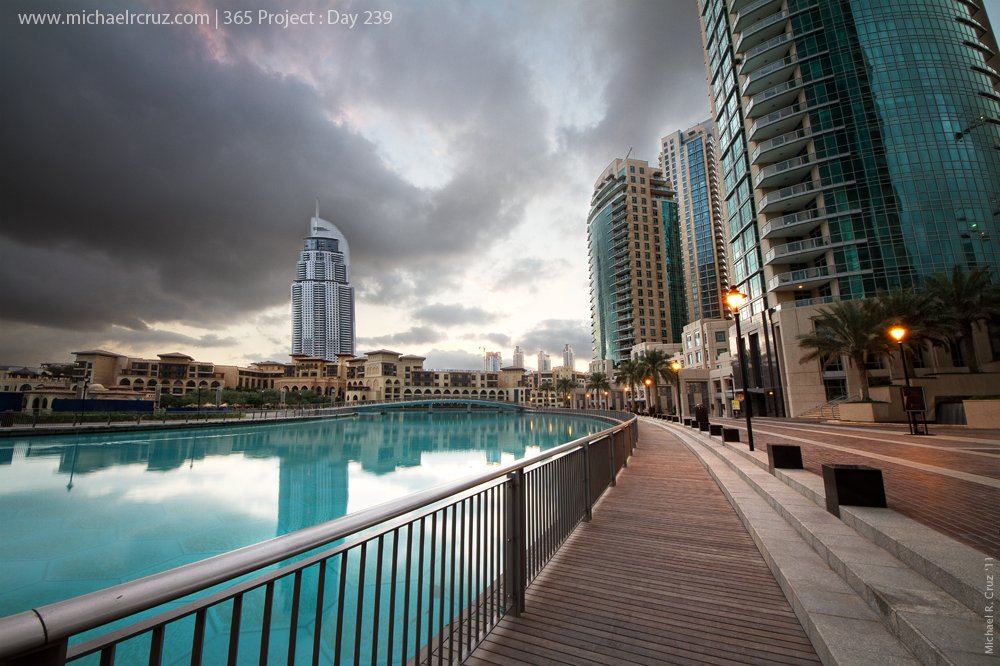 Another early morning shoot, this time for a cityscape. I am slowly realizing the advantages of shooting early, I think I am preferring sunrise now than sunset. There are a lot of advantages in the morning at least here in Dubai; first of all I get a lot of good clouds in the morning, less haze, almost no people walking around and I get to do a lot more during the rest of the day. I think those are fairly good advantages compared to shooting at sunsets.
Oh, one more thing, I got a new lens! It's a Sigma 8-16mm 4.5-5.6. And yes, I am loving it. First, I know that this is a slow lens esp. comparing it with my Tokina 11-16 f2.8, but this is really wide! In terms of sharpness, I don't think it's really far off from my Tokina, I think they have the same edge to edge sharpness, but what I was blown away was the handling of Color Aberration / Color Fringing, which is my only disappointment with the Tokina. I compared this Sigma with Canon 10-22 and Canon just cannot compete with the sharpness and color fringe handling. I hardly see any CA or fringes with the Sigma.
I wanted to check out Canon 10-22, since I was eyeing this lens even before I purchased the Tokina, but I after testing it, I was not really impressed by it anymore. I liked how contrasty the picture looks but after a close inspection I found that the sharpness was just so-so, compared with my Tokina which is a lot sharper and the color fringe is not any better, in fact on the edges, it's worse than the Tokina. I tried the Canon 10-22 before with my 450D and I was really impressed by it, but now with my 7D, I find it no match with the Tokina. And now, the Sigma 8-16 owns both of them 🙂 The only downside with the Sigma is that it doesn't accept filters. I think, I am going to keep my Tokina for its sharpness, it's f2.8 and in case I need filters; But, the Sigma 8-16mm would be my first choice for my landscapes.
Gear: Canon 7D + Sigma 8-16mm
Settings: f11 | 1.5 sec. | ISO 100
Post process:
3 exposure blending (DRI)
Curves adjustments
Applied some perspective correction
Take care!
/Mike